Registration is now open for SAMS 6th National Symposium in Tampa between Feb 17 – 18, 2023. The symposium will be held at the Marriott Suites on Sand Key, Tampa, Florida. The theme for this year's symposium is Innovations and Transformations in HealthCare. This is an exciting opportunity to meet with members, physicians, allied health professionals, students, and humanitarians from around the country.
Don't miss this opportunity to acquire CME credits and stay up-to-date on the work of SAMS. CME is being provided by the University of Chicago.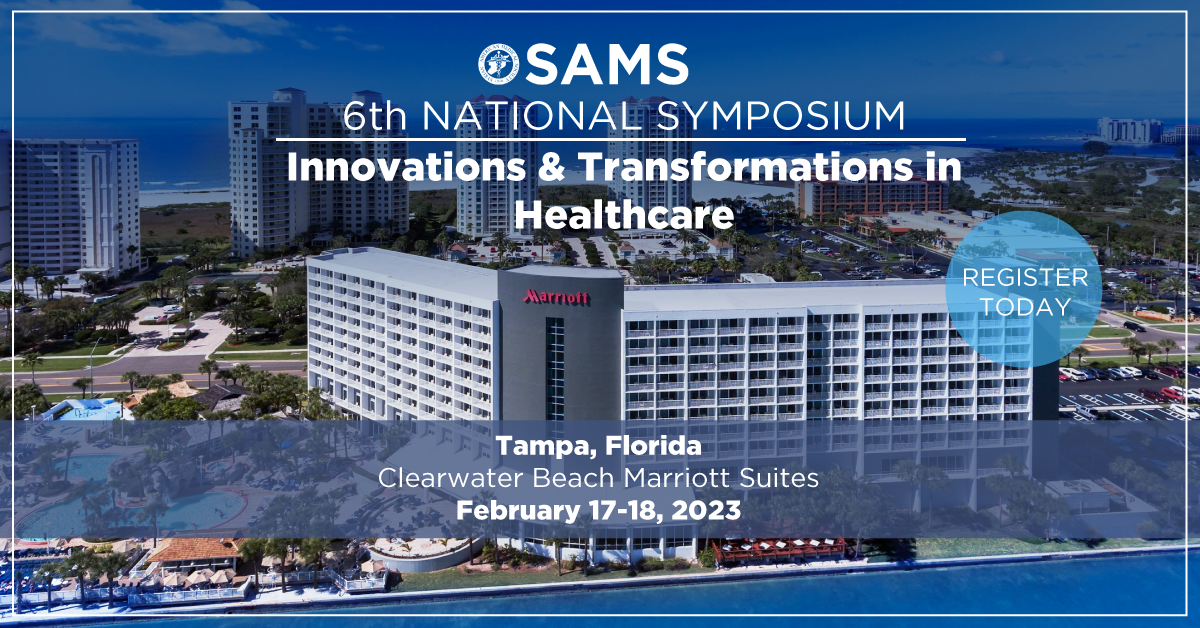 Hotel Reservations
The conference will be hosted at Clearwater Beach Marriott Suites on Sand Key. Attendees may book their reservations at the Marriott through the link below: Book your group discounted rate for SAMS' 6th Symposium Reservations are $359 per night for waterfront view, 1 bedroom, 2 room suite. When booking your flight, please consider both airports: Tampa International Airport and St Petersburg Clearwater International.
Call For Speakers
The scientific committee is looking for speakers who can provide their unique perspectives and experiences that fall under the theme of the event, "Innovations and Transformations in Healthcare," or any of the following areas of expertise:
Public health policies and prevention
U.S. healthcare reform;
Prevention and screening guidelines
Emerging and re-emerging infectious diseases
Cancer screening guideline updates
Medical updates;
Innovations in medicine;
COVID-19 pandemic-related challenges;
Management of acute illness and trauma in times of crisis;
Management of chronic illnesses in times of crisis;
Psychiatric health at a time of crisis;
Physical medicine and rehabilitation;
Community health outreach and provision of free medical services;
Professional development and well-being of healthcare professionals.
If you are interested in presenting or being a speaker, please submit your proposal to [email protected]. Submitted proposals should include your contact information, biography, lecture topic, and a short paragraph summarizing your lecture objectives. For questions regarding registration or questions regarding the status of your SAMS Membership or to renew, please reach out to Danny Hanbouri, SAMS Membership Coordinator, [email protected]
Please note that registrations canceled after January 15, 2023 are not refundable.